Latin Dance Class at Haden Hill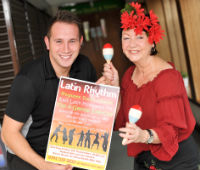 The class is aimed at people that want to learn a range of Latin inspired dance moves such as Rumba and Salsa whilst gently exercising.
The Danceline Latin class takes place at 10am every friday for one hour.
Each session costs £4 per person.
Class teacher, Lynne Thomas, said: "For many, strenuous exercise is not an option but most of us need to move more and to improve our posture and balance.
"We welcome people of all ages, fitness levels and abilities to come along, join in and help brighten the winter months."
Dancers need to wear comfortable clothing and footwear. Trainers are not advisable.
Partners are not required.
Lynne started ballroom dancing in her teens and became a professional dance teacher in the early 1970s. Lynne is now an examiner for the Associated Board of Dance.
For more information, contact Lynne on 07415 392 820 or call Haden Hill Leisure Centre on 0300 012 0121.