Kick your fitness into shape at Rob Lock's Martial Arts at Haden Hill Leisure Centre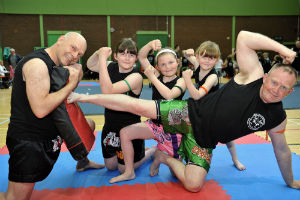 Whether you are an accomplished Martial Artist or a complete beginner, the Rob Lock Martial Arts Academy has a class to suit your needs. The classes below are all available at Haden Hill Leisure Centre:
Wednesday
5pm-6pm Little Dragons Karate (4-6 year olds)
6pm-6.45pm Junior Thai Boxing (6-13 year olds)
7pm-8pm Adult Thai Boxing (14 years +)
8-9pm Urban Evolution (13 years +)
Saturday
9.30am-10.15am Little Dragons Karate (4-6 year olds)
10.30am-11.15am Junior & Adult Thai Boxing
11.30am-12.15pm Sankukai Karate (juniors and adults)
Sunday
9.30am-10.15am Little Dragons Karate (4-6 year olds)
10.30am-11.15am Sankukai Karate (juniors and adults)
11.30am-12.15pm Junior & Adult Thai Boxing
Little Dragons Karate
Little Dragons classes are a fun mix of Karate games, gentle exercises and Karate syllabus, specially designed to suit young children. Within a very short period of time, students will have learned to count from one to 10 in Japanese, plus the five promises of Karate, as well as developing respect for each other and their peers. They will also have started their journey to learn the discipline of Karate and benefits of training in the art, from beginner to black belt. In doing so they will build build tremendous confidence and self-belief.
Junior Thai Boxing
Junior Thai Boxing classes are a mixture of fitness, fun and motivational training. We train the use of punch, kick, knee and elbow with a strict code of safety at all times. Children from the age of six to 13 years old are taught flexibility, strength, co-ordination, balance and a respect for each other throughout each and every class.

We are a black belt academy and each child progresses through a junior thai boxer syllabus.

Adult Thai Boxing
Thai Boxing is often referred to as the 'art of eight limbs'. Hence, here at Rob Lock's Academy we practice all striking techniques, including punches, kicks, knees and elbows. Controlled sparring for the beginner, progressing to more freestyle for the advanced student is a feature of a class here at the Academy. Since the techniques taught are very effective, all classes are structured and a code of safety in the sessions is strictly adhered to.
Muay Thai Boxing can be practiced by men, women and children as a realistic fighting sport, but can also be a fantastic way to keep fit.
Urban Evolution
Brand new to the academy this year is a street fighting method that is very much an urban training system. Urban Evolution is built for the streets, focusing on defence against multiple attacks, ground fighting, weapons and evasion. With survival obviously being the number one concept in today's modern day fighting, you'll find Urban Evolution a totally unique and exciting experience.
Sankukai Karate
Sankukai roughly translated means evasion – surely an excellent concept for self-defence! Karate at Rob Lock's Academy comprises self-defence, pad work, a grading system, an excellent ethic code for youngsters and adults alike and an attitude of 'never give up' that runs through the Academy.
We strike focus mitts and kick bags to develop timing and power. The classes are structured by colour of Belt. As your progress improves, so does your level of skill and fitness.
For more information please contact Rob Lock's Martial Arts Academy on 01384 896 502 or 07977 551 613.
Alternatively, please call Haden Hill Leisure Centre on 0300 012 0121.