Keeping Children Active in Sandwell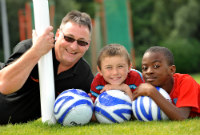 Sandwell Leisure Trust managed the programme which helped Sandwell exceed its target of keeping 4448 young people in sport by 2859. This in turn helped the Black Country exceed its target of 21,052, becoming the fourth best performing programme in the country.
The sessions, open to young people of all abilities included a wide variety of sports such as; girls athletics, soccer skills, trampolining and aikido.
Following the sessions, 100% of the participants said that they were likely or very likely to continue playing sport outside of school.
A Sport Unlimited Multi-Skills Coach said: "A young male took part in multi-skills sessions. He had never taken part in any physical activity or sport outside of PE in school. He really enjoyed the sessions and now actively encourages others to engage in the sessions."
Mandy Williams, Sport Development Officer at Sandwell Leisure Trust, said: "The funding provided schools, local sports clubs and community groups the chance to provide sporting opportunities for young people across Sandwell. The success of the programme is a great achievement for the Trust and Sandwell as a whole.
"Sandwell Leisure Trust only delivered the contract for this project for the final two years, so we are very pleased that we have not only met, but exceeded the target for Sandwell.
"These young people will hopefully continue to play sport and lead healthier lifestyles."
The three year initiative was funded by Sport England's Sport Unlimited Fund and commissioned through the Black Country Consortium, with the aim of increasing out of school sports participation amongst children and young people aged 11 - 19 in the Black Country.