Just Play Kickabouts in Tipton...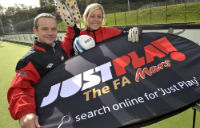 Take part in Monday night kickabouts at Tipton Sports Academy from 7pm every week. It costs just £1 to take part and both men and women are welcome.
The Just Play initiative aims to encourage as many adults back in to the game of football by creating a new and informal way to play the game.

According to Sport England's research, the number of people playing regular grassroots adult football in England is declining due to a lack of facilities, increased apathy, inflexible football options and logistical difficulties that hamper entering the game.
The FA MARS Just Play programme is a partnership between MARS, the UK's best selling chocolate bar, and The FA that aims to arrest the decline in adult football. The partnership is aiming to get 150,000 new participants playing the game for at least 30 minutes a week by September 2013, and deliver a total of 3.9m hours of extra football played each year throughout England.
At the heart of the campaign are Just Play! Kickabouts – a new, informal and fun way to get back into football. Just Play! Kickabouts will start taking place at dedicated centres across England this summer.