Join Sandwell Leisure Trust's First Ladies Football League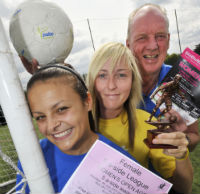 The new summer league was set up following the successful Sandwell Sevens festival which took place on the 26th June to coincide with the first day of the women's World Cup.
Nine teams battled it out with a close final between Desperados and Ladies United, with Ladies United eventually being crowned the winner on penalties.
Due to the success of the tournament a new 5 a-side league has started at Pulse in Wednesbury, on Monday nights throughout the summer.
The league costs just £10 per team due to funding from the national 'Get into Football Project' with anticipation to see who will be crowned winners of the league.
Stacy Hickinbottom, Manager of Unathletic Madrid, one of the teams that took part in the tournament and the league said: "The tournament was really good and there was a great atmosphere. The league is a great idea as there is not one in the local area, and the subsidised rate means that more people can afford to participate every week. All the girls hope that the activity will be repeated next year."
Mick Tuohy, Sandwell's Get into Football Officer, said: "Following the success of previous adult tournaments this summer we are delighted to have hosted the first Sandwell Sevens Female tournament and look forward to the success of the league in future weeks, and hope the tournament becomes an annual event."
Physical Activity Development Officer, Lisa Rashid, said "This is a great new project, as there is no ladies 5 a-side competition currently at the facility and is a great opportunity for teams to participate as part of their pre-season training. This competition will also contribute to the participants 5x30 minutes of physical activity per week."
For more information please call Sandwell Leisure Trust on 0121 506 4980.