Jess – My 10-Week Challenge to a healthier lifestyle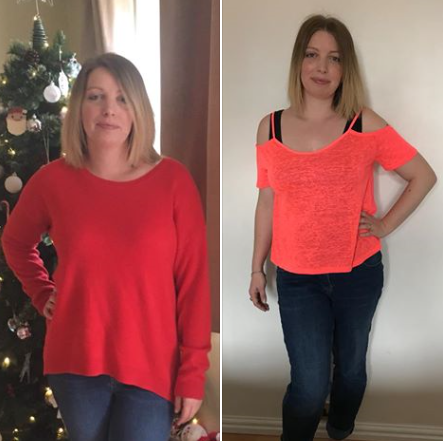 Meet Jess from Tipton who decided that 2018 was the year she wanted to make a change. She saw a post about a 10-week Challenge on the SLT Facebook page, sent in her story and was selected to take part.

Why?
We can all relate to her goals; getting healthier, fitter and losing some weight. However, one of the biggest reasons Jess took part was to set a good example to her young family and be a positive role model.
As a working mother of two young children; time and motivation to get out and do something was not easy. Nevertheless, this 10-week challenge required Jess to submit her every move and experience with her new fitness journey onto a private Facebook group. As there were another four people in the group, there was nowhere to hide.

How?

It is fair to say that Jess was very nervous about getting back into exercise, with it being so long since she last exercised. She started slowly with a swim at Tipton Leisure Centre. "I'm nervous to attend a class in case I can't keep up. Feel good after the swim though although my legs felt a bit like jelly!'
Over the coming week's Jess' confidence slowly increased. Sessions initially took place in the gym using both Tipton Leisure Centre and Tipton Sports Academy. "Really glad I went to Tipton Sports Academy, nice gym, really friendly and managed to get a good workout"
Using the MyZone Belt was a great incentive for Jess and helped to give her ideas for workouts as well as showing progression in her fitness levels "The belt helps with tracking my progress & effort, my resting heart rate has dropped from 80-59 which is huge and shows me I'm getting fitter"
Despite Jess' initial nervousness on taking part in a class, the anxiety of whether she can 'keep up' she discovered that in fact the classes were much more enjoyable for her. Starting initially with Clubbercise and Zumba "Good gym session today but I'm definitely enjoying classes more, find it more social and motivating, plus I seem to get more MEPS too!"
It was not long and Jess was confident enough to giving everything a go! "Joining the combat bandwagon – loved it! Snow days and being Ill made me go stir crazy in the house so this released some frustrations and feel so much better, the instructor was fab too really kept you going"
What?
What has Jess achieved over the last 10 weeks? A LOT!
Not only has Jess seen real changes to her body shape having lost over a stone in weight and 3 inches off waist and hips, she also has a lot more energy and fitness levels have improved massively!
"I underestimated what I could achieve when I started this and I didn't give myself enough credit. Fitness have now become part of my life"

Finally, this sums up what Jess set out to achieve, and she did!
"She said 'going to the gym' whilst walking around the house in my gym trainers. I wanted to be a positive role model for my children and for them to see exercise as a fun thing that they want to do as part of a normal day, and I hope that this is the beginning of a healthier lifestyle for us all"