In it together – Council and SLT lend a helping hand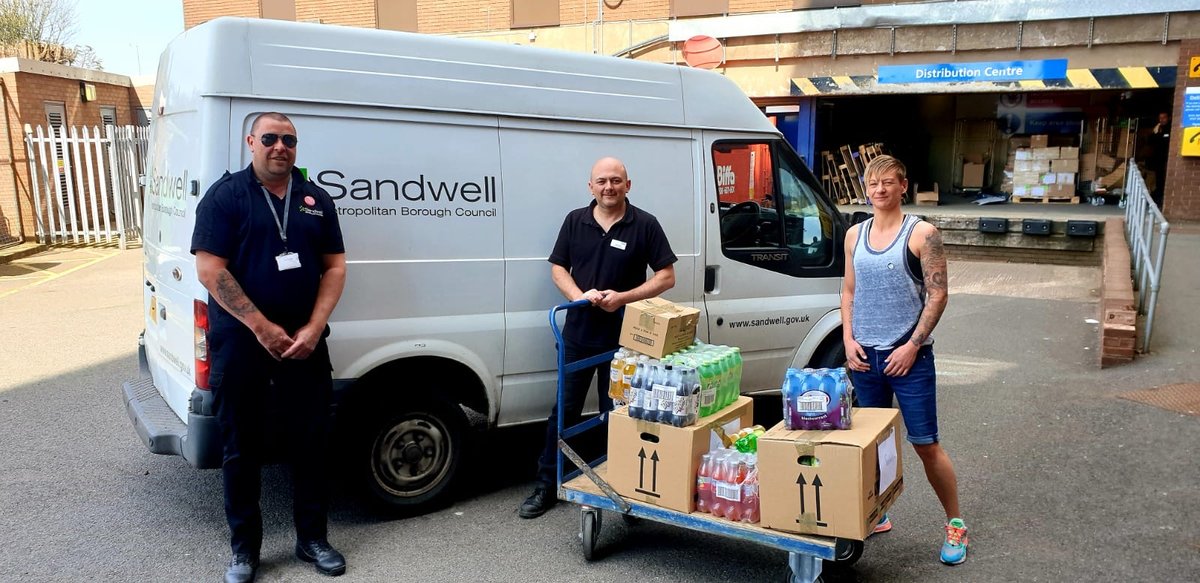 Sandwell Council's food distribution hub has been at the forefront of ensuring our older and most vulnerable residents are fed during the coronavirus crisis.
The council's partners at Sandwell Leisure Trust, which manages leisure centres and physical activity services in partnership with and on behalf of Sandwell Council, have provided accommodation for the food hub and donated over £4,500 worth of stock from their vending machines, which initially was being added to food parcels.
Following a plea on social media from a nurse at Walsall Manor Hospital, who said frontline NHS staff were in desperate need of refreshments, the council felt compelled to support all our local hospitals who are caring for Sandwell residents at this time.
Councillor Maria Crompton, Sandwell Council Deputy Leader and Cabinet Member for Safer Communities, said: "It was a really easy decision to use the stock donated by Sandwell Leisure Trust to provide much-needed refreshments to our local hospitals. They are doing such an amazing job and we wanted to show our appreciation and support."
Supplies of cold drinks, water and snacks have been donated to four local hospitals: Sandwell General, Walsall Manor, Russells Hall and New Cross. These donations have been kindly welcomed and have made a huge difference to frontline NHS staff working in difficult situations.
Amanda Winwood, Fundraising & Membership Academy Manager from Sandwell and West Birmingham NHS Hospitals Trust, said: "We are very grateful for the drinks and snacks donated as we are making wellbeing packs for our frontline workers as a treat, after working longer than normal shifts at this challenging time."
Sandwell Leisure Trust are offering a helping hand to Sandwell and the wider community during these challenging times. Although SLT's leisure centres remain closed under Government advice, they have continued to play their part in supporting Sandwell's fight against coronavirus.
Over 60 staff who are currently furloughed have stepped forward to volunteer to aid Sandwell Council in providing essential services to the public by being seconded to work at the council.
Where the council has any staff shortages or needs extra support, these individuals are working alongside council employees in services that provide direct care to Sandwell residents. This includes helping with personal care, meals, support with medication and daily activities that maximise independence.
Ash Rai, Chief Executive at Sandwell Leisure Trust, said: "These are unprecedented times and working in partnership to help Sandwell residents has become our major focus.
"We are supporting Sandwell Council in their efforts to provide residents with essential supplies and services and I am determined to do everything I can to ensure we are ready when the Government lockdown is lifted to help and support getting Sandwell active."