Gold Medal for Sandwell Leisure Trust...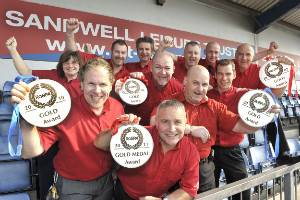 The Royal Society for the Prevention of Accidents (RoSPA) Awards are designed to ensure organisations have good health and safety management systems in place, as well as reducing the number of accidents and causes of ill health.
The Gold Medal award will be presented to the Trust on Thursday May 19, 2011.
David Rawlins, RoSPA's awards manager, said: "Congratulations on your organisations achievement! RoSPA firmly believes that organisations that have demonstrated their commitment to continuous improvement in accident and ill health prevention deserve recognition. Sandwell Leisure Trust has shown that it is committed to striving for such continuous improvement and we are delighted to honour it through the presentation of an award."
Chris Williams said: "I am pleased to report that Sandwell Leisure Trust has been successful in gaining a Gold Medal for its Fifth successive Gold Award.
"Many congratulations on your success and thanks to everyone that submitted evidence for this year's submission."
Sandwell Leisure Trust was one of the first British Leisure Trusts to receive this award and maintains this achievement year on year along with many other
awards and accreditations
.