Get bowled over at Hadley Stadium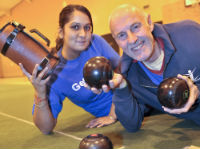 The league launches on Friday October 7 at the Wilson Road based centre and will take place at 2.30pm every Friday.
Each session lasts two hours and costs £1.55 per session.
Jasmine Heir, Physical Activity Development Officer, said: "The indoor bowls league is ideal for those looking to get back into the game, improve their skills or simply to increase their social circle."
For more information call Hadley Stadium on 0300 012 0121.