Friendship, Swimming & a 5km Swimathon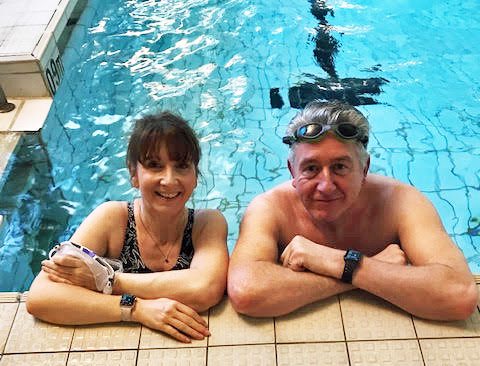 Two kind-hearted Sandwell Leisure Trust (SLT) members are swimming 5km non-stop on the morning of Monday 1st April for charity - and no, it's not an April Fool's joke!
Paul Wheeler (age 59) and Louise Hyde (51), both from Rowley Regis, have entered this year's My Swimathon that backs Cancer Research & Marie Curie and will be clocking up 200 lengths of their local pool at SLT facility Haden Hill Leisure Centre on Barrs Road in Cradley.
Paul, who is a financial advisor by trade and has been a regular at Haden Hill for the last five years, explains: "I'm 60 later this year, so wanted to do something to really push and challenge myself and raise money for a good cause, so the Swimathon ticked both boxes really. Louise is a swimming regular too and we've become good friends and it was she who encouraged me to do it having done something very similar for Diabetes UK last year.
"We've decided to swim it together in the end, for moral support, and have really been enjoying the training and preparation. Family, friends and work colleagues have got behind us too, because having set a target of £500 we're already on £680, so if anyone would like to back us and donate on behalf of Cancer Research and Marie Curie they can do so at https://www.justgiving.com/fundraising/paul-wheeler16 with our thanks."
Louise, who is in HR finance at a local day nursery, says: "Having swum for charity before, it's very gratifying and does make a difference to people's lives, so I was only too pleased to support Paul this time. We met at Haden Hill where Paul was one of the 'fast lane' swimmers, where I aspired to swim having worked myself up through the slow and middle lanes first.
"We started training a couple of months ago and are currently swimming five times a week, made up of three shorter sessions and two longer ones, so we're hitting around 160 lengths non-stop at the moment. We reckon the actual swim will take us a couple of hours or so to complete and although it's going to be a tough ask to do it all in one and non-stop, working as a team and spurring each other on will get us over the line."
SLT's Lizzetta Grainger, who is a senior receptionist at Haden Hill Leisure Centre, adds: "Paul and Louise are truly an inspiration and our centre manager Damian Kirkman had no hestitation in making arrangements for them to have exclusive use of a pool lane. We have got to know them well over the last couple of years and whenever they come in they always have smiles on their face and we wish them every success for their exciting challenge."