Fitness within REACH at Portway Lifestyle Centre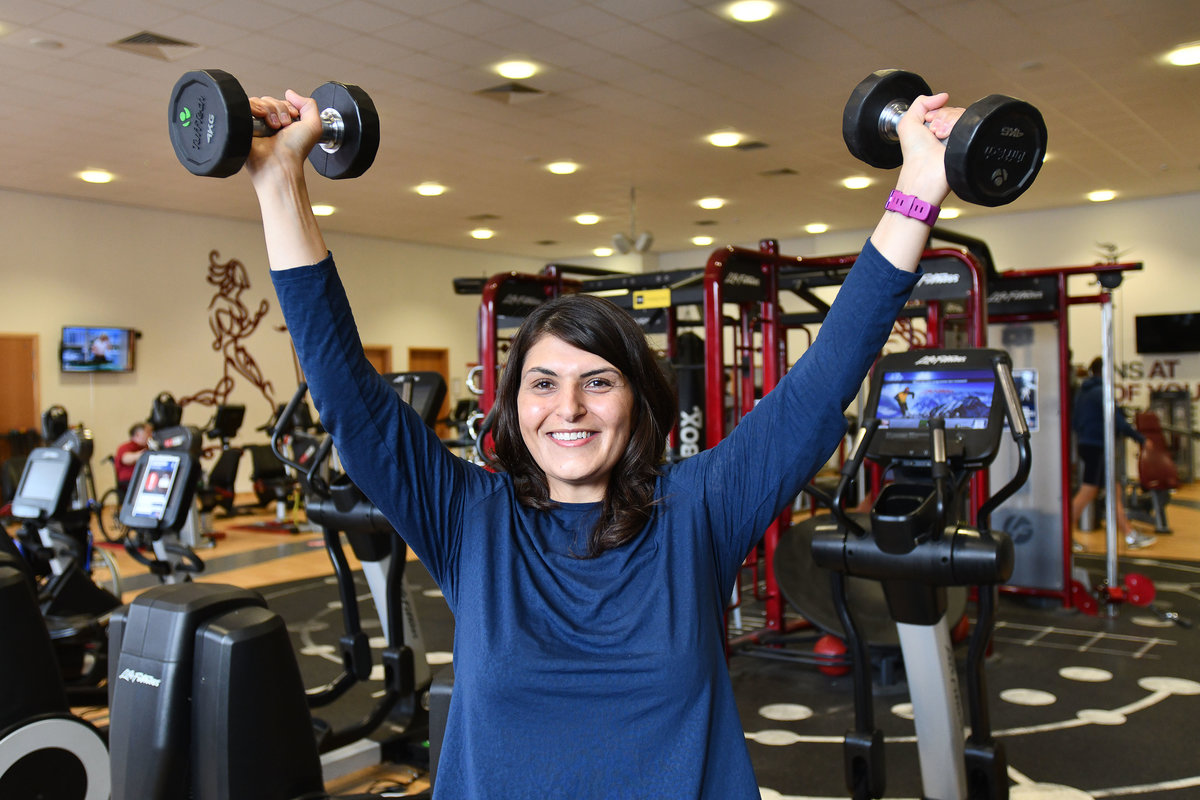 The 'Portway Reach' programme by Sandwell Leisure Trust (SLT) provided 119 qualifying residents with a free ONE card membership for 11 weeks during April to June 21* – for unlimited access to gym, swimming and fitness classes – in a bid to re-engage and support people over the age of 18 in the local community directly affected by COVID-19.
We are proud to bring you one participants personal experience the Portway Reach Project brought her:

What made you want to take part in the Portway Reach programme?
I originally heard about the Portway Reach programme via Facebook and was delighted there was some provision being made (and free of charge) for people who felt accessing exercise would help their mental health. Prior to the pandemic I was very active, but working from home has meant my activity reduced a lot and after many failed attempts of trying to exercise at home it felt like there were a lot of barriers in my way to staying fit. With the pandemic it's been difficult to know how long certain restrictions would in place for, so I didn't want to commit to anything long term. However, over the past couple of years I have seen how regular exercise has had a positive impact on my mental health, so I was eager to be able to take part in the programme.
Have you suffered with your mental health in the past?
I have had periods of feeling quite low and anxious, mainly due to difficult life circumstances, without being able to change these circumstances quickly or at all. Exercise has often been one of the main ways to survive difficult periods in my life. Often I haven't wanted to do exercise, or felt like it, but after doing some it's helped me feel more able to cope with the situations I have been in and changed my mood for the better.
What main challenges do you work through with your mental health?
These mental health issues have also affected my physical health e.g. IBS and affected my sleep/general wellbeing. Having mental health issues is difficult, as it can affect every aspect of your life and so often it's hidden and not visible to people when they see you.
How do you feel the Portway Reach has helped you? What has it improved?
I feel like the Portway Reach programme has given me an opportunity to try new things, without the financial risk/cost associated and long term commitment. It's helped me try things I perhaps wouldn't have considered before e.g. exercise classes, using the hydrotherapy pool. It's also provided a safe place to go to when it's been difficult to switch off and escape daily life - to carve out some 'me time'. The Reach programme has helped me try activities that just improve my sense of wellbeing, while sometimes if I haven't felt like doing something vigorous I have used the hydrotherapy pool to gently swim/exercise to help me feel more relaxed. The programme has helped me sleep better too and want to eat healthier, plus I feel more empowered to take control of my health.
Were you anxious about starting the programme?
I was worried that I wouldn't have the required level of fitness to even start exercising and that I would feel self-conscious doing exercise, because everyone would be fitter that me!
How do you feel about attending the centre now and exercise in general?
I feel like the centre is a safe haven, people are friendly, helpful and welcoming. In the centre I often see such a wide variety of people doing exercise, so the main thing I would say about Portway Lifestyle Centre is that it is completely inclusive. I find this refreshing and it makes you feel like you fit in, as the people there are from all walks of life. I look forward to going, as it's the one place throughout the pandemic where things are constant, you can switch off and escape the outside world and give your mind a break.
Were you active before covid-19 hit the UK?
I used to do a lot of walking before Covid-19 - on my lunch break with my colleague whilst at work. It has been nice to try different activities at Portway though.
Has being active and healthy become more important to you now?
Being active and healthy is the main thing I am passionate about now and taking part in the programme has helped me realise it's the best way to avoid becoming depressed and prevent future ill health. Both my relatively young parents have been unwell with heart problems and diabetes over recent years, so taking steps to improve my health is something that is within my power to ensure that these illnesses are less likely to happen to me. I'm convinced that exercise affects my mental health in a positive way – and it's now becoming a healthy habit to deal with any low moods.
Did you receive any support from the staff at Portway Lifestyle Centre? For example, did you have any appointments with the gym team?
I received some welcome advice on how to use some of the weight machines and have booked 1-2-1s with a gym instructor to help me vary my routine. I am increasingly feeling more confident to try new classes - something I would have avoided before due to feeling self-conscious. All of the staff members I have encountered have been very helpful during my time at the centre.
What did you particularly enjoy about the membership?
I enjoyed being able to trying something that was relatively risk free from cost and commitment. Life has been very unpredictable for the past year, so committing to anything long term I think would have been a barrier. I have enjoyed being able to feel like 'me' again - relaxed, happier and trying new things. It's not often in life that things take you by surprise, but I have to say the Reach programme has been the best thing that has happened to me during the pandemic. Without being given the opportunity to try new things and exercise in a safe space, I think I would be in a very different place mentally and physically.
Is there anything which you didn't like?
Some of the popular classes get booked very quickly - like aqua fit - so once you find a class you like remember to pre-book when the classes are released is my tip to others.
Have you made any new friends or connections when using the centre?
I haven't specifically, but that is mainly because of social distancing, however one thing I would say is that I feel more confident to say hello to people or ask for help.
Were the staff teams friendly? Do you have any shout outs for anyone in particular?
All of the SLT people have been very helpful, from the reception staff to the gym staff. Every person I have encountered has been very positive – it's been really nice to receive such excellent customer service during these challenging times.
Would you recommend SLT/Portway Lifestyle Centre to anyone else?
I would recommend, absolutely! There is something for everyone at SLT, it's inclusive, and the range of classes and options are amazing. My advice is just be open-minded, if you have never tried it how do you know you won't like it? To begin with I thought I would just go for a swim occasionally, now I go to the gym, the hydrotherapy pool and try new classes. It's made me realise that there is more to life than just doing one type of activity when it comes to exercise. It's helped me to be braver in my choices.
Do you feel you have made long term changes to your lifestyle?
Taking part in the programme has been so beneficial and it's changed a lot of my habits - I don't want to spend my life not being active now. It's made me realise there is so much more to life that just staring at screens all of the time and there are other ways to unwind and de-stress. Being active makes you think about your body, how important your wellbeing is and what you can do about your health to take care of it.
What was/is your favourite activity/s at the centre?
I really like aqua fit and using the hydrotherapy pool - the relax sessions are a hidden gem. I don't like to tell too many people in case they all want to go....
Laura from Rowley Regis
Well done Laura - this is a really inspiring. We are proud to be able to support you on these first steps. Keep going!
The Portway Reach Project was funded by the National Lottery's Coronavirus Community Support Fund (CCSF), Portway Reach sought to increase the confidence and self-esteem of individuals by re-introducing them into SLT centres and back towards a healthy and active lifestyle.
It was spearheaded by Oldbury facility Portway Lifestyle Centre on Newbury Lane, but due to the restrictions of booking under pandemic guidelines was extended out to the eight other SLT centres across the borough too.

Each participant completed a survey on finishing the programme and they key findings revealed:
89% said it had a positive impact on their mental health
74% felt it has improved their sleep
68% said it had improved their general eating habits
68% said it has improved their confidence
89% have been motivated to improve their activity levels
67% intend to continue with their membership once the programme had expired
John Harling, Leisure Manager at Portway Lifestyle Centre, said: "We're absolutely delighted that so many customers have benefitted from this targeted funding, with some excellent feedback received as well. It's very gratifying to see and hear that this free scheme seems to have made the biggest difference to mental and physical health over lockdown – and made such an impact on so many aspects of pandemic life. We will continue to offer support to all of the Portway Reach members, as we gradually return to more normal operations after so-called Freedom Day."