Fitness Q&A with SLT Member Darren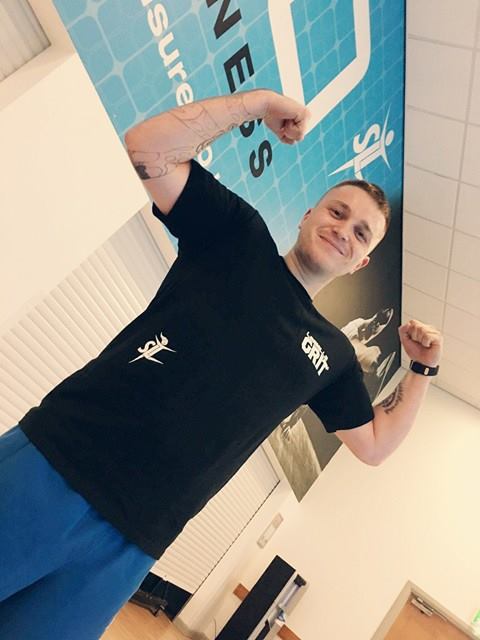 Haden Hill Leisure Centre regular Darren Beacham has been hitting the gym and has more than a few classes under his belt, after 5 months of embracing the fit-life. Curious to know what motivates him, we asked him a few questions about his personal fitness goals for 2017…
How long have you been training at Haden Hill LC now?
What training do you do when you're at the centre and why?
I take part in the Les Mills GRIT Cardio, Strength and Plyo classes as well as the Les Mills BodyPump and BodyCombat classes. These classes are challenging, they're tough and they push your body to its limits and push physical fitness levels to the max and that's what it's all about!
Do you eat healthily? What's an average day for you food wise?
I do yes, I am still finding out what's good for my body and what isn't, my diet isn't perfect but it's good. The kind of food I have on a daily basis (excluding treat day) is a cup of green tea with porridge and wholemeal seeded toast, for breakfast. For snacks; apples, bananas and oranges followed by a sandwich or lunch with something like tikka chicken with lettuce, corned beef or crumbed ham. For an evening meal I'll have golden vegetable rice with tuna or chicken breast/ salmon fillets with vegetables. Pre workout I will have a protein snack and then a protein shake post workout.
Do you have a goal in mind that helps you keep on track with your training?
I do, at first my goal was to just get my physical fitness better than it was; I always wanted to feel better in myself which was impossible since I used to smoke heavily. Then I quit smoking and chose Haden Hill and Les Mills GRIT as my starting point into achieving this goal and I must say the goal I set, I have completely smashed! Thanks to all the help from the Haden Hill instructors and the classes that take place there. I do have a new goal in mind now, I would like to hopefully become a qualified Les Mills instructor so I am able to help other people achieve their goals and be an example to everyone, it might be extremely tough but it works!
Would you recommend friends to use Haden Hill Leisure Centre?
Without a second thought, yes! Haden Hill is a great place to go. They have a wide range of different classes to choose from; the gym is well maintained and has all the equipment you need from cardio to strength equipment. The swimming pool is well looked after and all the instructors and other staff members are very friendly and very helpful. They make you feel welcome and at ease, there is no feeling of intimidation at all from the gym or classes. Every time I walk in to centre I am always smiling and looking forward to getting into the class which is how you want to feel!
Who inspires you to achieve your goals?
The person who inspires me is myself, it was me who gave myself the kick up the backside in order to change my life around. It was me who pushed myself in order to get into physical fitness to get a lot better than I was. I pushed myself through all the tough times in order to become fitter, stronger and healthier. Les Mills GRIT is probably a hard place to start but if it wasn't for that class ten I wouldn't have been able to push myself that much further in order to achieve my goal. Inspiration doesn't necessarily come from other people; it comes from within yourself too! That's the best inspiration of all.
Why do you choose to attend classes instead of the gym?
I choose to do the classes because I feel a lot more motivated than I would in the gym. I feel I gain a lot more in a class; the goal I wanted to achieve at the beginning of my journey, I know would only have been reached in my classes.
Of course I could become fitter and stronger in the gym, but to me that would be the easy option. I am not saying that gym work is easy because it's not, whatever you do fitness wise, it can be as easy or as hard as you want it to be but you don't feel results by taking it easy which is why I take part in the Les Mills classes. You've got no option but to go all out. You have nowhere to hide. You will be pushed until your body tells you no more, which is what it's all about for me. It's got me where I am today, with one goal that's been smashed and another one set.
The classes are absolutely awesome. With a great bunch of motivating and very friendly instructors taking these classes, what more could you want?
If Darren's fitness journey has inspired you set your own goals, find out more about how an
SLT membership
can help you reach them, or pop into your local centre where staff will be only too happy to help.