Express library launches at Portway Lifestyle Centre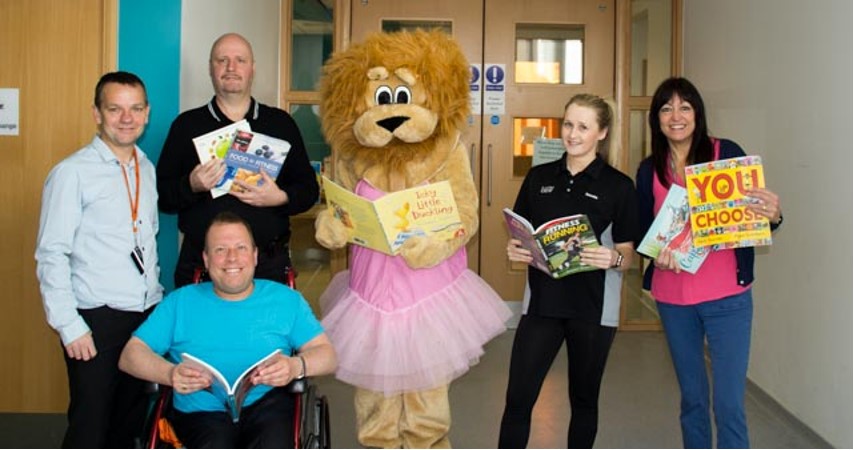 The 'Express Library' is a joint venture between Sandwell Council's Library Service and Sandwell Leisure Trust which operates the leisure centre.

The Express Library offers visitors to Portway Lifestyle Centre the opportunity to borrow library books, magazines and other resources in a quick, easy and convenient way.
Two fully stocked bookcases are made available to community borrowers twice a week. On Monday between 2pm - 4p.m and Friday from 10.30am – 12.30pm.
Everything is free to borrow with members simply needing to register with the library service.
The Express Library is staffed completely by community volunteers who freely give up their time to help others borrow stock from the library.
On hand at the launch were members of the Grace Mary to Lion Farm Big Local Partnership Board and of course their tame lion 'Gracie'. All were very impressed with the set up and the opportunities open to local residents.
There are lots of books available both fictional and non-fictional from a range of authors covering a whole range of topics.
Sam Goode from Sandwell's Library Service commented: "I'm really pleased that the new Express Library is open at Portway, we're keen that Sandwell's residents have access to our service and opening up in community venues is another step in the right direction for us.
"We've asked users of the centre what they'd like us to stock on the bookcases and we've responded to their requests. If anyone wants something different or wants to reserve a book then we can always assist with stock from one of our other larger libraries.
"We're also holding story sessions and reading clubs at Portway Lifestyle Centre for younger people and I know that they're being very well received by participants."
John Harling, Centre Manager, added: 'Portway Lifestyle Centre is constantly improving and adapting to meet the needs of our customers and this is another perfect example of us thinking differently and trying out new and additional services.
"We've got a huge number of leisure and sporting facilities here including a large gym and a 3G football pitch. We also have a community cafe on site which is the perfect place to ready any books that have been borrowed. The library is yet another complementary service that we can offer to our clients. I've already signed up and I'd highly recommend it to others.
More information about the Grace Mary to Lion Farm big local programme is available at http://www.biglocalmillionshare.org and for more information on Sandwell's libraries please contact www.sandwell.gov.uk/libraries