Exercise sessions for women in Smethwick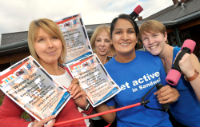 The women only sessions take place every Wednesday from 9.15am at the Dorothy Parkes Centre, Smethwick.
Sessions involve a varied programme of exercise for just £2 per person.
Pre-bookable childcare places with Sure Start Smethwick, Uplands & Londonderry are available.
Jasmine Heir, Physical Activity Development Officer for Smethwick, said: "The sessions are ideal for all women regardless of previous exercise history or experience.
"It's as much about having fun and socialising as getting fit."
The Dorothy Parkes Centre is based on Church Rd, Smethwick B67 6EH.
For further information, please contact Sure Start on 0121 555 7371 or Jasmine Heir on 0300 012 0121.