Exercise for Over 50s in Cradley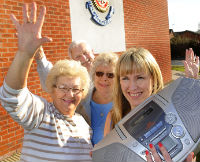 Sandwell Leisure Trust and the Cradley Heath Salvation Army is offering local residents aged 50 and above the chance to keep fit and flexible in a relaxed, friendly atmosphere with like minded people at a community exercise class.
The class features a variety of low impact exercises helping participants to improve mobility, stay flexible and keep fit and active with both new and old friends.
The class takes place at The Salvation Army, Meredith Street, Cradley, every Thursday afternoon at 12.00noon – 1.00pm.
Each class costs £2.
For more information contact Matt Hill, Physical Activity Development Officer on 07879 890252 or Cradley Heath Salvation Army on 01384 563570 or just turn up to the class.