Enjoy Dance at the Lodge in Langley...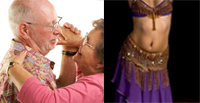 Weekly Giddha and Bhangra classes led by qualified instructors, Fridays from 1:30-2:30pm, only £1.50 per session. For further information please contact: Jasmine Heir 0121-434-4848 or Kamleish Parfect 07976 069245.
Would you like to learn some other new dances? Langley Lodge is also hosting hourly sessions of dance tuition followed by refreshments. Learn how to Salsa, Argentine Tango, Waltz, Cha Cha, Jive, Ballroom, Swing and much more…
Every Thursday 1:30-2:30pm, just £3 per session.
Both these sessions take place at Langley Lodge, Langley Park, High Street, Langley, B69 4SN
For further details contact Jasmine Heir - Physical Activity Development Officer (Smethwick) Office: 0121 434 4848 Mobile: 07825 365550 or Email: jasmine_heir@info@slt-leisure.co.uk