Dance pupils pass with flying colours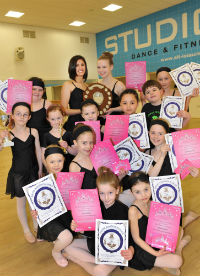 Principal Sonia Webb of Sonia Webb's Academy of Drama and Dance said: "I am so proud of all of the pupils. It was their first examination and they all passed with top marks, which is excellent considering that they only started training in September 2012, so well done to all of them. "

Classes run on a Saturday afternoon at Haden Hill Leisure Centre, Barrs Road Cradley Heath .

Ballet classes for 2-5 year olds at 3.30pm and 6-14 year olds at 4.50pm.

Tap classes for 2-5 year olds at 4.10pm and for 6-14 year olds 4 pm
For more information on how to enrol call Sonia on 07411385832.