Creatures of the deep find their way to Langley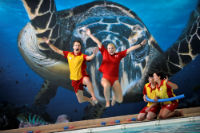 The small pool at the Vicarage Road based Leisure Centre was temporarily closed throughout the summer whilst the pool filters were replaced. The area around the small pool was also given a makeover.
Following suggestions from children at the centre's Swim School, the walls around the small pool now feature bright, colourful images of sea creatures including a huge Turtle, Whale Shark and a school of fish.
View a
video
of the small pool's transformation.
Paul Marshall, Facility Manager, said: "We're always looking for ways to improve our facilities.
"As well as installing new filters to ensure the highest level of hygiene and cleanliness for customers, we wanted to make the area around the pool more attractive and exciting for our customers."
The popular small pool is used for swimming lessons, parent and toddler sessions, Aqua Fit, family swimming and pool parties.
For more information, contact Langley Swimming Centre on 0300 012 0121.