Climbing wall now open in Oldbury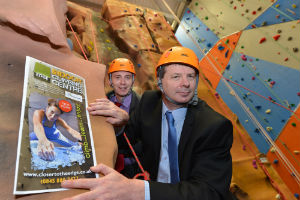 The new ten metre high climbing wall at Portway Lifestyle Centre is now open to the public and groups.
View a copy of the Closer to the Edge timetable.
Closer to the Edge instructors have significant experience of working with groups with a wide range of special needs.
Activity sessions can be tailored to the needs of any specific group and instructors have a wide range of techniques to ensure that climbers of all abilities can achieve their goals.
Add this to innovative activities, the design of the walls and the presence of a hoist and you get an environment in the centre that will ensure that everyone achieves and enjoys.
Climbing also aids the development of co-ordination and motor skills, and for people with certain physical disabilities, our assisted hoist system is available. The use of the hoist will ensure that participants get the positive sense of the height and exposure experienced through climbing

For information on bookings please call Closer to the Edge on 0845 880 2477 or visit our climbing wall page.