British Modern Karate at Wednesbury LC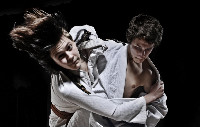 Wednesbury Kickboxing Academy is part of the British Modern Karate Association. They teach children from 7 years old, teenagers and adults. Their system fuses together self defence and disciplines from karate, boxing, freestyle movements and fast kicks from kickboxing explosive power, knees and elbows fron muay thai to produce a highly effective martial art.
Excellent for fitness, weight control, self defence, confidence boosting or even if you want to be the next world champion. Classes are taught by Brian Aston, 4th Dan Black Belt and former World Super Middleweight Kickboxing Champion. For more information regarding sessions times click on this
link
.