BODYCOMBAT launches at Sandwell Leisure Trust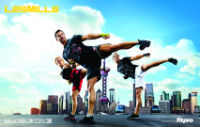 BODYCOMBAT is the empowering cardio workout where you are totally unleashed. This fiercely energetic programme is inspired by martial arts and draws deom a wide array of disciplines such as karate, boxing, tae kwon do, t'ai chi and Muay Thai. Supported by driving music and powerful role model instructors, strike, punch, kick and kata your way through calories to superior cardio fitness.
Benefits of BODYCOMBAT
Improves heart and lung function and reduces the risk of heart disease

Tones and shapes key muscle groups

Burns calories for a leaner body

Improves co-ordination and agility

Improves bone density

Improves posture and core strength and stability

Builds self-confidence
A Typical Class
1. You'll begin by learning all the moves that will be used throughout the class, and warming up your body and mind for the battle ahead.

2. Visualise your opponent and unleash into a series of fight combinations. The focus is on speed, power and endurance. There will be time to recover as you prepare for the each phase, with a final fight that will seal the deal on your fitness objectives.

3. Finally, you will take to the floor and cap off the workout with some strength training. Then it's payback time – stretch out those hard-worked muscles after your fight.

Try one of these inspiring classes in Smethwick or Cradley:
Monday 8pm
Wednesday 8pm
Wednesday, 6pm
Thursday, 5.45pm
For more information contact Harry Mitchell Leisure Centre on 0300 012 0121 or Haden Hill Leisure Centre.