Badminton Bonanza at Haden Hill Leisure Centre...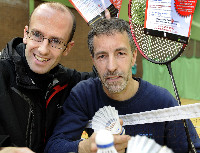 The sessions are run by a qualified coach, providing a great chance to learn new skills and make new friends. Badminton can help you get fit and stay healthy. It provides an excellent aerobic workout and uses many different muscle groups for fitness, flexibility and agility.
Several people who like being active and having fun are already attending the sessions and now the group is looking to increase its numbers; by giving people who are new to Badminton the chance to learn and to those who already play the chance to improve their game.
To take part just turn up at Haden Hill Leisure Centre on a Thursday evening at 8.00pm. Rackets are available if required. Sessions cost just £3 for two hours coaching and play.
For more information please contact Jonathan on 07854 558028 or Corinne on 07932 643502.