Athletics sessions for children with disabilities a success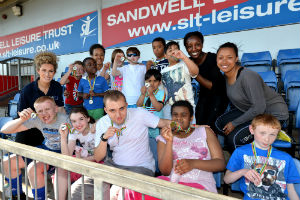 Local charity, Sandwell Parents for Disabled Children, teamed up with Tipton Sports Academy to host the scheme.
Children and young people aged from 4 – 17 years received expert help and tuition from staff and volunteers at the centre.
The sessions taught the group a range of athletics skills as well as encouraging them to take part in more physical activity and hopefully develop an interest in athletics.
Activities included agility work, jumping and throwing with each child awarded a certificate and medal at the end.
It is hoped that some of the group will join local athletics clubs to further develop their skills.
The children and young people had a range of disabilities including physical disabilities, visual impairment, hearing loss, dyspraxia, autism, ADHD, learning difficulties and medical conditions.
Penny Collins, from Sandwell Parents for Disabled Children, said: "The sessions gave our young people the opportunity to face some new challenges and get active whilst encouraging them to take up athletics.
"If anyone is interested in finding our more about our charity, please get in touch."
Howard Court, Athletics Development Officer for Sandwell Leisure Trust, said: "It was an amazing experience for everyone involved, including the children, parents and young volunteers. Everybody really enjoyed themselves.
"We have even identified a few children who have truly outstanding athletic ability and have a promising future in the sport."

It is hoped that more funding can be found to hold future sessions.
Sandwell Parents for Disabled Children is a local charity which provides sports, play and leisure opportunities for disabled children and young people, their siblings and their parents/carers.
For more information contact Sandwell Parents for Disabled Children on 0121 544 8880 or visit their website www.sp-dc.org.