Are you ready for a Challenge!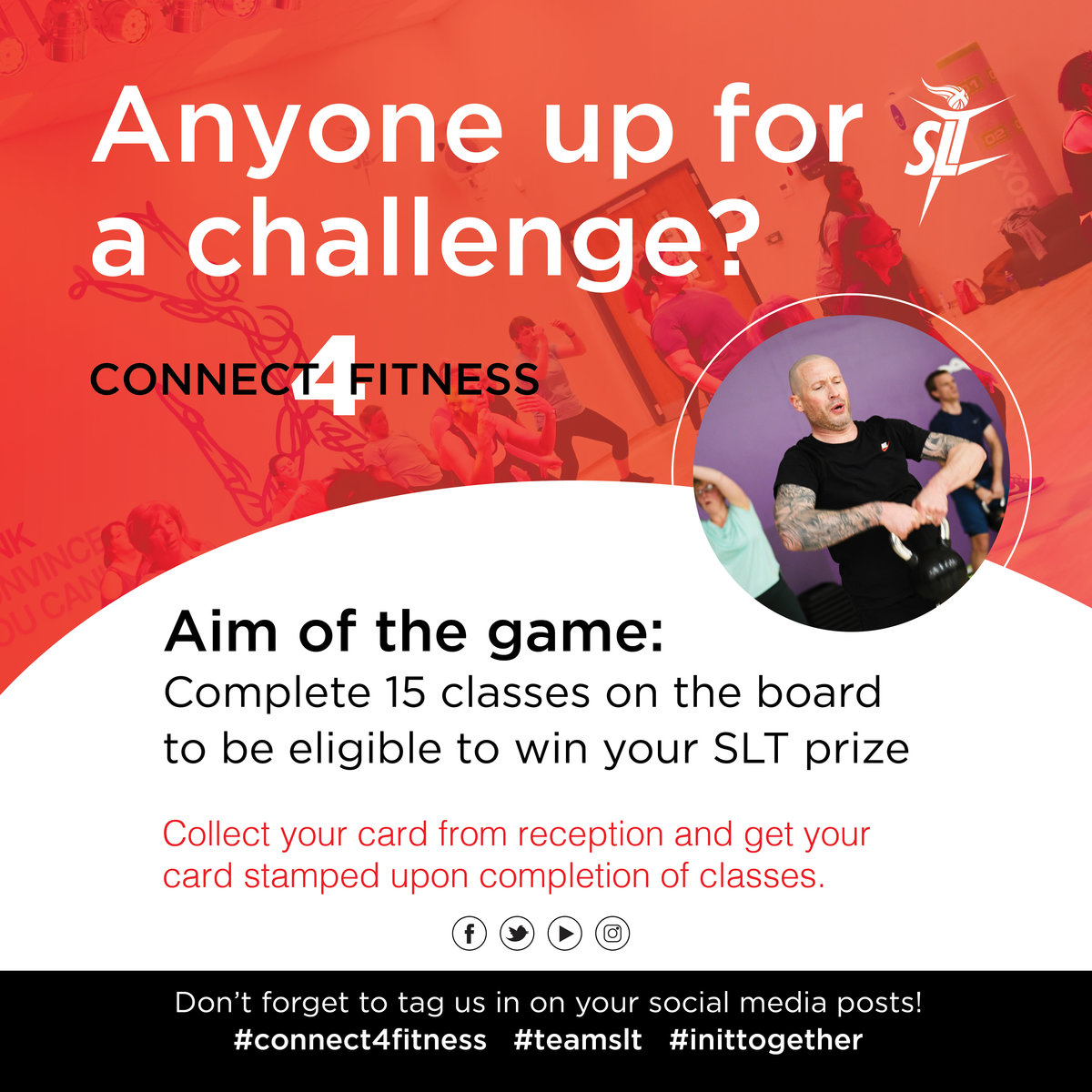 A new fitness challenge is now available for members and non-member to try and win some great prizes!
Participants simply need to complete 15 out of a possible 30 fitness classes before 31st December to be in with a chance to win an exclusive SLT t-shirt and other merchandise.
Developed by Site Fitness Coordinators Heather and Amy to encourage customers new and regular to make more use of their membership and try some new classes.
"As the weather changes and nights draw in we thought it would be a great time to introduce this fun challenge. There are lots of options and you can complete using any of our centres. You don't need to be a fitness expert and the classes can even be swapped for up to 3 gym or swimming sessions. We really wanted to encourage people to try something new and have fun along the way"
How it works:
• Complete 15 classes on the board to be eligible to win a prize
• Each time you attend a class, reception will stamp your card
• Boxes with 2 or 3 classes mean you have a choice as to which class you attend and aren't required to go to them all!
• You can swap up to 3 classes for gym or swim sessions.
• Use your card at any SLT leisure centre.
• Once complete hand to the reception team and your prize will be arranged
Of course there are also some T&C and rules:
Customers take the card to reception upon completion of each class session to be stamped. The card is non-transferable. If customer loses their your card it will need to be replaced and the challenged re-started. Only one card per person. The minimum age to participate is 14 years. Available to members and non-members. Once the card has been completed, customer is required to fill in the details and hand to reception. Cards must be handed in no later than 31st December 2021. Prizes are subject to availability and can change at any time. SLT reserve the right to remove or stop the promotion at any time.
Pick up your game card at your local leisure centre from Monday 25th October.
Good luck!