All Change at Harry Mitchell...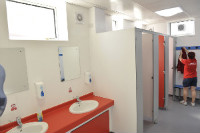 The totally unexpected discovery of a huge coal bunker had delayed the project but the end result has been well worth the wait. Temporary changing facilities were also provided during the refurbishment.
This much needed investment has made significant improvement for our customers at this popular leisure centre located on Brommfield, Smethwick.