A golden opening for Tipton Leisure Centre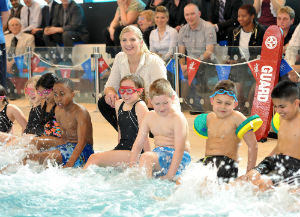 Alongside the Mayor of Sandwell, Councillor Keith Davies, the champion swimmer helped to unveil the centre's opening plaque.
Rebecca received the plaque as it was swam across the centre's pool by four Swim School pupils.
Rebecca, who also won a bronze medal at London 2012, also held a swimming lesson with children from a local primary school.
Children from Summerhill Primary School on Upper Church Lane, Tipton, enjoyed specialist tuition and tips from the athlete who ran the lesson alongside SLT Swim School instructors.
The children all had chance to meet with Rebecca afterwards for photographs and autographs.
As the centre was officially opened, the Mayor of Sandwell, Councillor Keith Davies, thanked everyone involved in the planning and construction of the facility.
He added: "We can all agree that it is fantastic to see this superb building open to the public, offering state of the art leisure facilities that the people of Tipton and Sandwell deserve."
Crowds were also treated to a question and answer session with the swimming star.
Rebecca described the new centre as 'amazing' and added: "I've seen many swimming centres in my time as I've been going to them since I was four, and this is really one of the best and a really amazing place for people to come in Tipton."
She also highlighted the importance of teaching children to swim: "It is a life skill, and I think no parent takes their children to the pool in the hope they could swim at the Olympics. They take them so they could learn a life skill. It's something that they are going to need and some point in their life."
On being asked about her recent retirement from competitive swimming, Rebecca told crowds at the centre that she plans to become involved in grass roots swimming as well as working with elite athletes.
Leader of the Council, Councillor Darren Cooper, who hosted the ceremony said: "In an area like Tipton, Smethwick, or anywhere in Sandwell, to have a facility like this in our borough is just out of this world."
Tipton Leisure Centre opened to the public on Saturday March 30.
Sandwell's newest centre is managed by Sandwell Leisure Trust on behalf of Sandwell Council and provides a new 25-metre, six-lane swimming pool at the corner of Alexandra Road and Thursfield Road.
Alongside the main pool is a learner pool, family-friendly changing village, dance studio and 54-station gym.