Regular exercise and healthy living greatly reduces illness related absenteeism.
Sandwell Leisure Trust offers a corporate membership package to businesses - which will give your employees 20% off our One Card membership per month.
Our One Card membership provides fully unlimited access for swimming, fitness classes and gyms at all SLT Sandwell Leisure facilities.
We offer a choice of nine centres, offering very latest Life Fitness gym equipment, over 350 weekly fitness classes (including the very latest Les Mills releases) & access to all public swimming sessions. We have fitness classes for all levels of ability and class sessions vary in length to meet everyones needs. All members have access to a monthly one to one fitness programme review.
If you work for one of the eligible organisations listed below and want to join, please join online and select Corporate ONE Card membership. When you collect your membership card from a centre, please show your payslip and company ID at reception (failure to produce evidence will result in the membership not being authorised)

Please note, it is the responsibility of organisations on our corporate scheme to inform their employees of this employment benefit. Corporate discount is only applied when proof of employment is validated and not for any backdated period any organisation has been part of the scheme.
What Our Corporate Members Say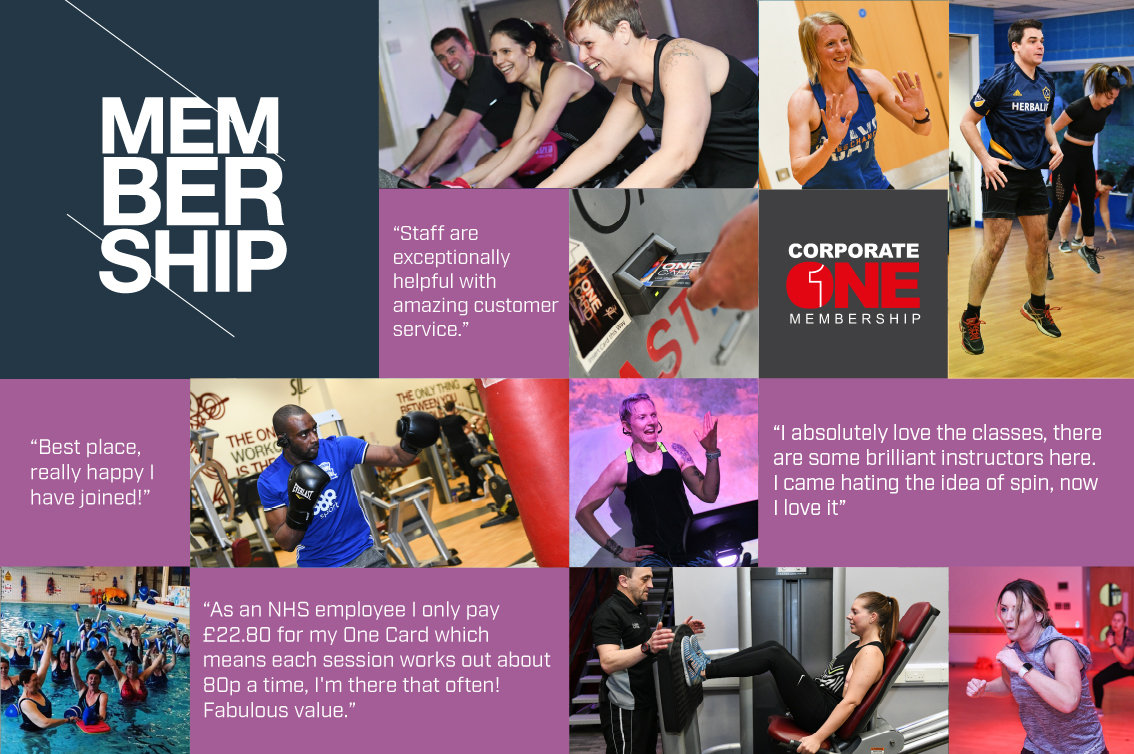 Corporate Membership Key Benefits
Unlimited access to all casual public swimming sessions.
Unlimited access to fitness classes.
Unlimited access to fitness gyms and weights.
FREE One2One Exercise Plan our Fitness Crew will help you get the most out of your workout. Please give more than 24 hours notice of cancellation or full price may be charged.
Sports pre-booking online or by phone up to 7 days in advance includes badminton, tennis, squash and 5-a-side. Payment required at time of booking.
Free British Tennis Membership When you register Tipton Sports Acaademy as your 'place to play' on the LTA website
Tennis discounts at Tipton Sports Academy.
Golf discounts at Brandhall Golf Course.
Unlimited use of sauna and steam.
Bearwood shopping discounts Discounts where you see SLT's leisure pass poster.
Corporate Companies
Accident Exchange
Adwin Spring Co Ltd
Aerotech Inspection & NDT Limited
Agewell Employees
Airparks Services (Birmingham) LTD
Allsee Technologies Ltd
A-Mir & Co Ltd
ANA Food Services Ltd
Apollo Aerospace Components
Arconic Ltd
ASDA Employees
Asian Elderly Association
Atkins Ltd
B&Q Employees
BC Stockford & Co Ltd
Bevan Group
Bhandall Dental Practices Staff
Birmingham City Council Employees
Birmingham St Marys Hospice Employees
Black Country Consortium Ltd
Black Country Housing Group Employees
Black Country Living Museum Employees
Blackheath Jamia Mosque Trust Employees
Blue Light Card Holders
Bohler
British Gas Employees
British Transport Police
Canon (UK) Ltd
Chapmans Electrical Employees
City of Wolverhampton Council Employees
Complete Kidz Community Interest Employees
Cox & Plant
Doosan
DPD
Dudley Metropoitan Borough Council Employees
DWP & HASSRA Members
ERIKS UK
Event Hire UK Ltd
Exol Lubricants Ltd
Footman James / Towergate Insurance Employees
Fuelsoft
GMB Members
Golmaal Ltd
Haden Hill Swimming Club Employees
Hadley Industries Plc (Hadley Group)
Halesowen College Staff
Halesowen Women's Institute
Hayley Group Ltd
Highways England
HMRC
Holiday Inn Staff
Ice Blue Marketing & Design
IKEA Employees
Industrial Power Unit
Just Straight Talk CIC
KenRox Contracts Ltd
King Edward VI College Employees
KUKA Systems UK Ltd
Learning Journey Nursery
Lidl Employees
Life Fitness
M5 Oldbury Viaduct
Man V Fat
ManTech UK Ltd
Mary Stevens Hospice Including Mary Stevens Trading Ltd
Members of the Armed Forces Serving & Ex-Serving
Midland Heart Housing Association
MOJ & HMCTS - Ministry of Justice and Her Majesty's Courts & Tribunal Service
Morrisons Employees
MSC Industrial Supply
My Policy Ltd
MyTime Active
N Power Employees
National Express West Midlands Employees
NHS Employees
One Stop Stores Employees
Painters Solicitors
Price Pearson Ltd
Queen Alexandra College Staff
Rimstock Ltd
Ryder's Hayes Academy Trust
Sainsburys Employees
Sandvik Ltd
Sandwell & West Birmingham Hospital Trust Staff
Sandwell Academy Schools Staff
Sandwell Beam
Sandwell College Staff
Sandwell Metropolitan Borough Council Employees
Security 247 Ltd
SERCO
SIPS Education Ltd
Slimming World
SmartFit
South Black Country Education
Specsavers Optical Superstores Employees
Swisslog UK Limited
Tesco Employees
The AA Employees
The Edgbaston Palace Hotel Staff
The Kaleidoscope Group Plus
The Trade Centre UK Employees
Tipton Harriers Members
Toby Carvery Employees
Virgin Media
voestalpine Metsec
Warburtons
Warley Wasps Triathlon & Running Club
Weight Watchers
Wesleyan
West Bromwich Building Society Employees
West Midlands Ambulance Service
West Midlands Combined Authority
West Midlands Fire Service
West Midlands Police Force Serving and Retired Officers
West Midlands Trains Employees
Our best deals
Monthly direct debit
£22.80 per month
minimum term contract applies
Annual Payment
£273.60
unlimited use for 12 months
How to join
If your employer is on the list above, simply take proof of employment to your local leisure centre and join today!
How your organisation can apply:

If you would like to offer your employees Corporate Membership with SLT, complete this application and get your company signed up.
Before you complete:
- The application needs to be completed by a Senior Manager within the organisation
- Your employees must be able to show evidence of employment with your organisation (i.e. recent payslip / ID Badge)
- You must be able to inform all employees within your organisation of this benefit
Once accepted all your employees will then be eligible to take advanatge of the Corporate membership and all the benefits it brings
For more informaion Contact Lisa Richards, Membership Manger
lisa.richards@slt-leisure.co.uk | 0121 521 4429
REQUEST A CALL BACK
Fill out the form below and we will be in touch to discuss your membership options
Select an activity or leisure centre