Affordable Fitness...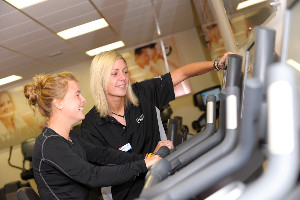 With Sandwell Leisure Trust we offer a flexible and affordable choice to enjoy regular fitness. You don't have to be a member to workout in one of our well equipped
gyms
or join a
fitness class
.
You can simply 'pay as you go' per session or join our popular Leisure Pass membership with individual and family options providing discounts or targeted concessions.
We also offer our individual, inclusive
One Card
option providing unlimited access to any of our
gyms
,
fitness classes
and casual public
swimming
sessions. One Card members also benefit from a one-to-one with one of our qualified fitness crew members when they join.
One-2-One Training
Sandwell Leisure Trust understands how important your fitness goals are to you this is why we aim to put you on the right exercise path from day one, so you get to your fitness goals quicker!

Whether you're new to the gym or a seasoned gym veteran, our experienced Fitness Crews are here to support you every step of the way.
When you join one of our Synergym gyms, you will be offered a free 1-2-1 fitness consultation with one of our Fitness Crew who will discuss with you what you want to achieve and then design a specific exercise programme around your needs. They will also take you through your programme ensuring you understand how to get the maximum effects from it and begin see results from day one!
Not only this, but we will also frequently check you are progressing and make necessary changes to your programme in order to keep you progressing towards your goals.
Our Fitness Crew will look to offer you advice and guidance throughout your membership.
Synergym Fitness
'
Synergym Fitness
' is SLT's brand for gyms and fitness facilities – where you can find the very latest exercise and resistance kit. Look out for exercise equipment with entertainment screens, iPod docking, and workout programmes you can download....
New BODYCOMBAT Classes
The empowering cardio workout where you are totally unleashed. This fiercely energetic programme is inspired by martial arts and draws deom a wide array of disciplines such as karate, boxing, tae kwon do, t'ai chi and Muay Thai. Supported by driving music and powerful role model instructors, strike, punch, kick and kata your way through calories to superior cardio fitness. Find a BODYCOMBAT class near you...
Extreme 30minute workouts...
SLT have introduced a NEW range of intense 30 minute fitness workouts in Rowley Regis, Smethwick, Tipton and Wednesbury.
Find out more...
Bodypump
™

classes
Bodypump
™
is the original barbell class that strengthens your entire body. The 60 minute workout challenges all your major muscle groups by using the best weight room exercises like squats, presses, lifts and curls.
Find out more about SLT's
New
Meet the Fitness Crew...
Haden Hill Leisure Centre, Smethwick Swimming Centre and Wednesbury Leisure Centre's gyms are fully staffed by qualified Instructors who offer inductions, personal fitness programmes and also deliver the GP Exercise Referral Scheme which is run in partnership with Sandwell NHS.
Meet a member of our Fitness Crew, available at;
Select an activity or leisure centre