About Tannika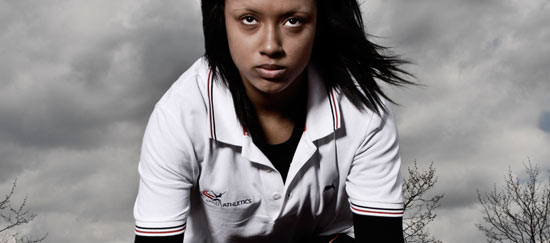 Tannika is a Sandwell resident living in West Bromwich. She is 20 years old and is from a one parent family raised in one of the most deprived areas of Sandwell which is one of the most deprived local authorities in the country, where aspirations are low for many. As a young girl, sport was Tannika's passion, but a tragic accident at 11 years of age when she dislocated her hip put an end to it for a while. While recovering she was informed by a consultant that any ideas of a high level sporting career was highly unlikely and that playground fun and activities would be the most she should expect to do.
"Tannika has never been a person to give up, she decided that highly unlikely was not impossible and she went out and proved the doctor wrong as two year's later after getting that news she was national young sports star of the year."
She is a very talented athlete having competed at the highest level winning national medals and titles. She is coached at Tipton Sports Academy by Howard and Clova Court. She has been one of Sandwell Leisure Trust's senior leaders and volunteers for over 6 years, and having worked hard through school she is now at university studying physical education.
She was one of a group of very inspirational young volunteers from Sandwell Leisure Trust invited to Westminster for an all Parliamentary group enquiry into youth crime, where she gave account of herself and her successful projects that have made a difference.
In 2013 she won three National awards; one for best youth led activity, she was National Athletics Volunteer of the year and part of the girls team that won the national Kids Count Inspiration Award at the House of Commons.
Challenges overcome to achieve success
Being told at 11 years of age that any thought of a sporting career was unlikely after her accident pushed her into making it happen, other challenges were the expectations of the area she lived which were low, night time curfews and gangs were the norm and at times were attractive to her but she found sport and the rest is history.
Contribution to others and volunteering
Tannika's dedication is truly amazing, often the first to arrive at the Trust's events and last to leave, a senior leader in the Trusts volunteering programme, she mentors and coaches other youngsters through sports and volunteer programmes, has developed from a school leader at 14 to StreetGames Young Volunteer at 16 to senior leader and qualified sports coach for Sandwell Leisure Trust at the age of 20.
The Role Sandwell Leisure Trust has played
As part of the work of the Sports Development and Physical Activity Team, the Trust delivers a hugely successful volunteering programme linked to Streetgames Co-operative Young Volunteers. The programme has seen the Trust support and develop numerous young people over the last 6+ years, helping to upskill young people to become confident individuals who are able to support with event running, marshalling, and other volunteering roles, giving time back to the local community which has supported them to raise their aspirations and achieve utilising sport as the catalyst for achievement.
Tannika was identified at the young age of 11 by Sandwell Leisure Trust as a young person who was both gifted and talented in athletics, as well as someone who had the potential to make a contribution back to Sandwell. The Trust has supported Tannika on a journey of highs and lows, encouraging her into volunteering to give something back, whilst also supporting her aspirations to become an elite athlete. Through the Leisure Trust, Tannika has been able to realise her potential and be upskilled to become the fantastic young ambassador she is today to the next generation in Sandwell.
Select an activity or leisure centre