LifeTrail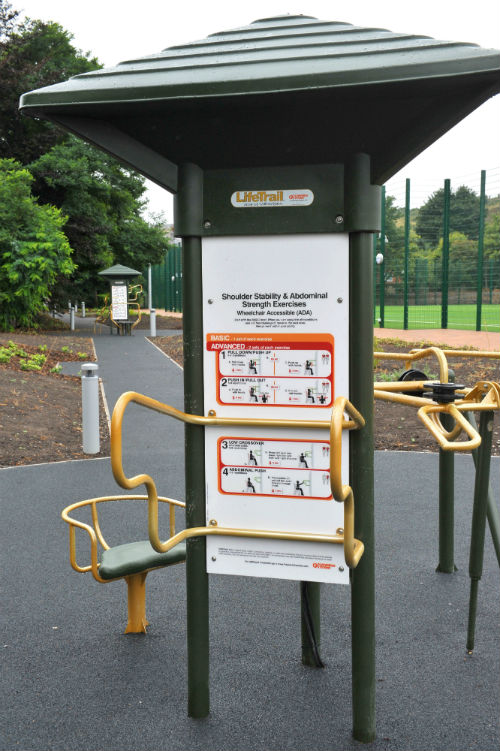 Portway Lifestyle Centre
has its own outdoor exercise Life Trail containing a range of activity stations in a safe and secure environment.
This is available during normal building opening hours:
Monday to Friday 6.45am - 10.30pm.
Saturday and Sunday 8am – 6pm.
Enjoy the freedom of revitalising fitness with LifeTrail, the outdoor workout designed to make it easier for users to perform daily tasks and enjoy a better quality of life.
LifeTrail includes 21 activity panels built on the principles of functional fitness: progressively challenging exercises patterned after the twists, turns, and movements of everyday life.
Become stronger and have more energy to complete the real-life activities that matter most.
Benefits

- Improve balance
- Increase strength
- Boosts energy and reduces fatigue
How does LifeTrial work?
Rather than isolating the muscles to work them independently, LifeTrail uses functional fitness, an integrated approach that encourages all the muscles to work together to better prepare the body for the demands of real life.
Each station offers three activity panels with multiple, progressive exercises to keep workouts fun and challenging.

User-friendly instructions make it easy to customise the workout according to comfort level and ability.

Users apply heir own body weight as resistance to build total-body strength, flexibility and balance.

Safety bars help beginners get accustomed to the equipment, but can be relied upon less as comfort level grows.

Smaller muscles that stabilise the joints get strengthened too, giving users greater movement and preventing injury.

Closed-chain exercises, which keep the user's feet in contact with the ground as they bear their own weight, make their muscles work together in the same multi-joint movements they make in daily life.
A video about LifeTrail