Anna
Fitness Team - Haden Hill Leisure Centre
My greatest fitness achievement is…
Every qualification I undertake is an achievement for me. I was never an active child growing up and have never been in to sports or anything like that so when I first did my Level Gym course off my own back because I had found something I truly loved was one of my proudest moments. Since then I have continued to step out of my comfort zone on a regular basis especially with the Les Mills courses as teaching in front of peers and master trainers/presenters can be a daunting experience. But for me its fight or flight and that has made me a better and stronger willed instructor because of it. My Level 3 PT was a pretty awesome too.
I can help if you want to…
The human body is an amazing thing and is capable of some pretty incredible things.
As well as your usual weight loss and muscle gain I love working with people on their mobility too. Seeing if an area of the body is tight or is not as strong and working and developing the area to suit is great! I can help with building up your confidence! The gym is a daunting place, as are classes. I've got your back!
Remember fitness is a journey, it doesn't happen overnight and if you need someone in your corner to encourage, motivate and help you along the way, I'm here for you.
My biggest fitness tip is…
Do what you love and keep it varied. There are going to be classes and instructors that you love and those that you don't! That's OK, its allowed! Use your instructors to give you programmes in the gym as part of your monthly one2one's! We can make them fun as well as productive. We can also help suggest the best classes to use to help reach your fitness goals.
The more activities you do, the more likely you are to keep going on your fitness journey. Also, use us if you're not sure of something, if you have an injury or aren't sure of technique in something ask us, it's what we are here for.
Finally, find a group of people in a class or in the gym that miss you when you're not there, that celebrate an awesome class with you or congratulate you on a PB. These people a priceless… trust me.
What I love most about my job…
The crew. The team. The customers that arrive from work having an epically bad day and leave feeling amazing and thanking us as they head home.
We work hard at the Hill to make classes and gym as inclusive as possible, to always introduce someone that's new to a long term Hiller as they are what make this site what it is.
I love not only delivering classes but being able to stand next to customers in other instructors classes too and training alongside them, us all giving everything we've got in the workout and celebrating together at the end.
The classes I teach include…
Body Pump
Body Combat
Sprint
GRIT
Fitness Yoga

Kettlebells
ViPR
Functional
BoxFit
Circuits
Indoor Cycling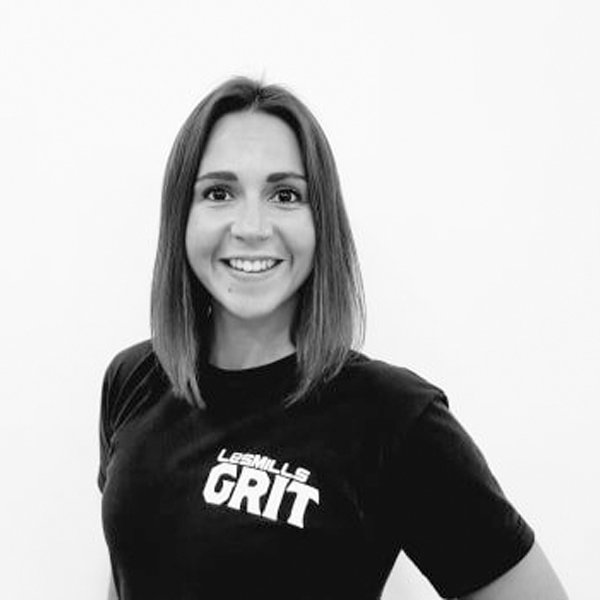 Specialisms:
Functional Fitness | Weight Loss | General Fitness

Email Anna

Back to the team